Launch of RESEMBID OCT-COP
March 25, 2021
@
2:00 pm
–
3:30 pm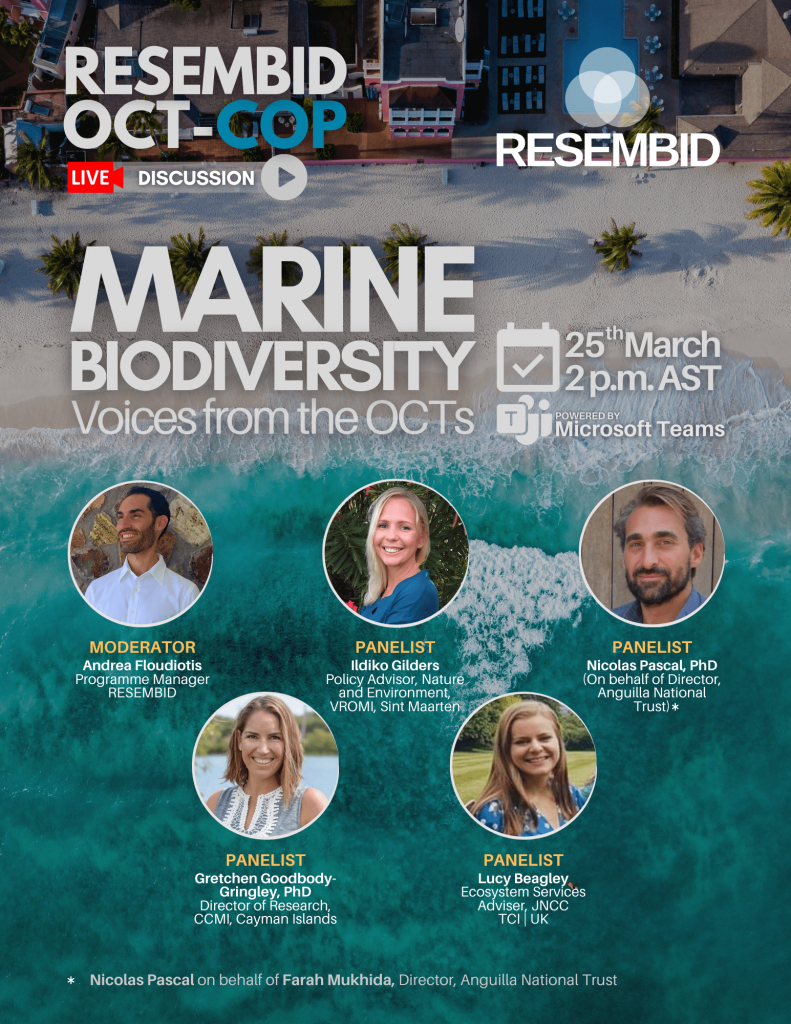 We are pleased to announce the launch of the RESEMBID OCT Community of Practice Forum, scheduled for 25th March 2021 at 2:00 p.m. AST.
The OCT Community of Practice Forum is one strand in a 7-pronged strategy being implemented by RESEMBID to achieve full programming.
The purpose of the OCTs Community of Practice Forum is to create a dedicated virtual space to facilitate sharing and exchange of ideas, knowledge and practice among the OCTs.
The overall objective is to provide an opportunity for implementers of RESEMBID-supported projects to share experiences on how they plan to use the Programme.
More specifically, it is expected that the OCT Community of Practice Forum will enable the achievement of the following:
Facilitate discussion on project ideas currently under development/consideration.
Foster and strengthen the "RESEMBID community."
Identify ideas that can be developed by other OCTs into projects.
Six online interactive sessions are planned, and will be hosted on Microsoft TEAMS from March through August 2021. Each discussion will focus on a specific RESEMBID thematic priority, and will include panelists from at least 3 OCTs. As you will see from the attached, the first discussion in the series will focus on Marine Biodiversity.
Discussion 1: Marine Biodiversity – Voices from the OCTs
Moderator
Andrea Floudiotis, Programme Manager, RESEMBID
Panelists
Ms. Ildiko Gilders, MSc. – Policy Advisor Nature and Environment, Ministry of Public Housing, Spatial Planning, Environment & Infrastructure (VROMI), Sint Maarten
Nicolas Pascal, PhD – On behalf of Farah Mukhida, Director, Anguilla National Trust, Anguilla
Gretchen Goodbody-Gringley, PhD – Director of Research, Distinguished Scientist, Reef Ecology and Evolution Laboratory, Central Caribbean Marine Institute, Cayman Islands
Lucy Beagley, Ecosystem Services Adviser, Biodiversity and Ecosystems Services Team, Joint Nature Conservation Committee (JNCC)
We look forward to your active participation!
Join the LIVE interactive discussion by clicking the link provided below.
Share This Event!